The topic of speed limits in the UK is a controversial one. Many people think our national speed limit is too high- others say it is too low. A new discussion over a 20mph speed limit instead of a 30mph standard street limit is also taking place. York is one of the cities who has already enforced the 20mph limit on some of its streets; cyclists have welcomed the new limit – car drivers have grown impatient. So who's right?
The debate has many complexities, with a key one being safety. According to a survey, 80% of people in Edinburgh think 20mph speed limits are safer and should become the default speed limit in the UK. Places where the limit has been intruded, like in Lancashire or Portsmouth, say that they have seen casualty rates fall and crashes reduce by 54%.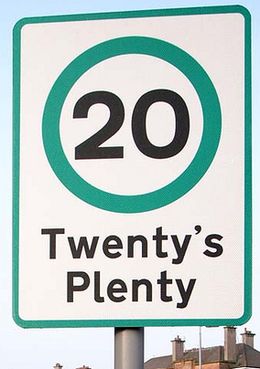 The CEO of a new campaign to introduce the 20mph limit, Jane Townsend, commented, "The GO 20 campaign is about defending everyone's right to walk and cycle freely without being endangered, whether it's to get to work, school, the shops, or just getting out and being active….We need to tackle the senseless and violent casualties that continue to happen daily on our roads, and we need to enable people to live healthy, active, social lives. It's clear that 20mph limits in communities can help bring this about — and it's clear this is what people want."
Much of the UK already has a limit in place of 20mph around schools and some hospitals, and in these areas the limit appears to help reduce danger. High pedestrian areas can become risky to navigate when cars are racing through – so 20mph would keep everyone safe, and, as the sign goes, "20 is Plenty."
However, many motorists are opposed to the plans. One taxi driver said, "Reducing the limit to 20mph would hinder much of the UK's roads. Deliveries would take longer. People would take more time getting to work in the mornings. Many people would break the speed limit and get penalised. Cars also don't run well only chugging away at 20mph on urban streets – I don't think these plans are going to help anyone."
Choosing whether to change the limits lays with the individual councils. Many are considering proposals but not all are looking to enforce new limits – at least not yet. For more information about the 20mph speed limit in your area, contact your council to see what their plans are. Many will welcome opinions from road users and pedestrians. You could call them or write to their council offices directly.
For more information about 20 being Plenty, check out the 20 is Plenty website. This useful site busts some of the myths of reducing the speed limit and gives you lots more information about what it might mean to switch to the lower limit.