Find out how you can salvage your specific car make and model. Get better than scrap prices for your end of life vehicle.
BMS Salvage have years of experience scrapping and salvaging tens of thousands of cars and vans across the UK. We process thousands of a cars a day, pricing up various makes and models for car owners with an end of life vehicle. Even if you've been told your car is only good for scrap and has outstanding issues, get a quote with us to find out how much your car could actually be worth.
Find Your Manufacturer
Salvaging your car might be the only option once it's at the end of its lifecycle, so we ensure you get the best possible price from buyers competing for your vehicle. When you get a quote you see multiple offers from approved scrap yards who are willing to buy your vehicle regardless of its working condition.
Scrap or Salvage your car?
We can both scrap and salvage your car to ensure you get the best price. We always offer scrap prices based on your car's weight which is the biggest determinant of the best price we can offer. If possible we'll also offer you the chance to salvage your vehicle. Salvaging can involve fixing or stripping a vehicle for its parts and guarantees a better price. Get a quote to find out what your car is worth.
Why Are Some Cars More Likely To Be Scrapped?
While salvaging a vehicle is almost always preferable, sometimes there's no other option besides scrapping your car and having it crushed and broken down back into its raw, base materials. This decision is often made when certain factors leave the vehicle owner with no other choice.
Typically these will include issues like excess damage or even severe wear and tear that has impacted most parts of the car. In turn, this could mean that the cost of repairing the vehicle or replacing all of its parts simply isn't worthwhile as the resale value for the car would not justify the investment of time, effort and money. This is especially true for older cars, not only because their general value has already diminished significantly but also because acquiring spare parts could be tricky or costly.
Why Are Some Cars More Likely To Be Salvaged?
On the other hand, there are also cars that are less likely to be sent straight to the scrap heap due to their typical success as salvage vehicles. These cars will be spared a trip to the crusher but could still be stripped of their parts that will then be reused in other cars. However, it's entirely possible that salvage cars could instead be repaired and put back on the road themselves!
Like scrap cars, there are several factors that we find generally dictate which vehicles are better for salvage. Cars that have a higher initial value could suit the salvage market better. For example, if you take a Mercedes and a Dacia of the same age and mileage, the Merc is more likely to be salvaged that its Romanian counterpart. Of course, this is not guaranteed – any vehicle could potentially be scrapped or salvaged.
Demand is another influencing factor; if a vehicle is extremely popular, it's going to have a higher resale value with buyers competing to get hold of the keys. If a car that's notoriously unpopular finds itself at the centre of a 'scrap or salvage' debate, it's more likely that the buyer will find better value from simply scrapping it.
Although, that demand also extends to the parts that the vehicle holds. If its parts are still in good condition, any vehicle could be salvaged, particularly if those parts are very easily interchangeable. This means that they could be used in other models, or even other manufacturer's vehicles!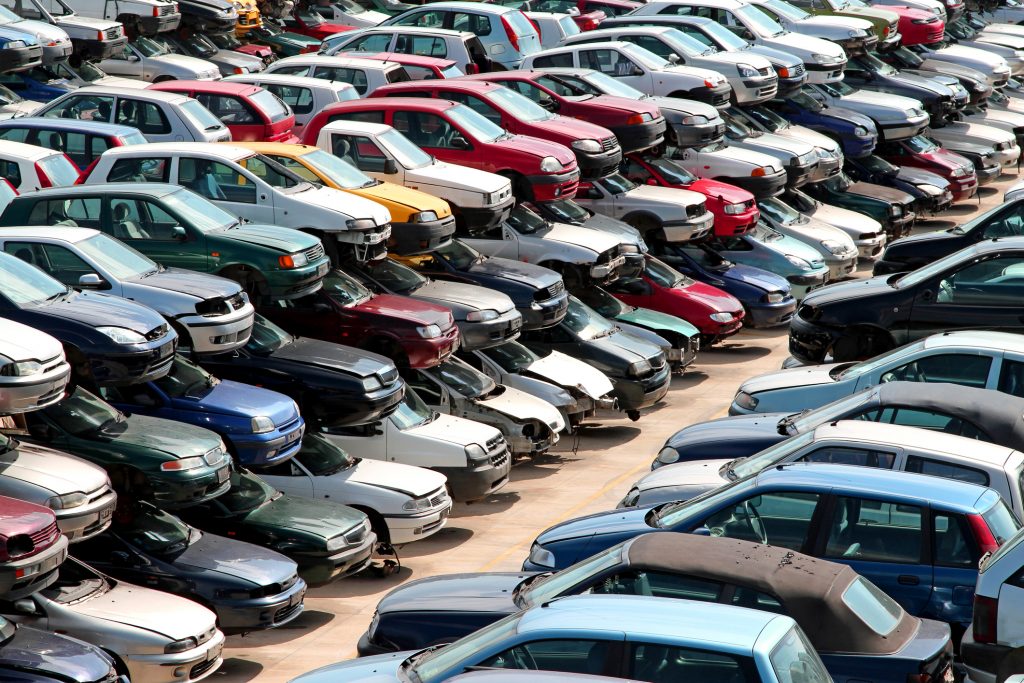 Which Makes & Models Are Salvaged Most Often?
We deal with all sorts of cars in every kind of state. Get the best possible price for your car with an instant quote from BMS Salvage. Car models we often see are…
Ford Fiesta
Ford Focus
Vauxhall Corsa
Vauxhall Astra
VW Golf
BMW 3-Series
Regardless of make or model, we can scrap or salvage your car!
How salvaging your car works
Our process is both quick and easy, plus our team will help you all the way – including completing all of the necessary paperwork.
Complete a quote in seconds by providing your car's registration plate and your postcode in the form at the top of the page.
If deemed salvageable then we'll ask a few more questions about the car like mileage, engine status, gearbox, scratches and dents.
Once we have all the details we can give you the best possible price and source you a buyer.
We then finalise the details with you over the phone and pass your details on to a local buyer who serves your area. They'll ensure your car is picked up from a location convenient to you at a time that suits.
Car Salvaging FAQs
Got more questions about the car salvaging process? You're not alone – here are some of the most commonly asked questions we receive here at BMS Salvage:
I have an obscure make or model car – Can I salvage it?
Here at BMS Salvage, we will always attempt to find a salvage buyer for your vehicle, regardless of make or model, if it's in a good enough condition to be saved from the crusher. While your car may not necessarily be one that's 'in demand', a truly obscure motor will have rarity on its side, increasing its value!
How is salvage value determined?
The salvage value of a vehicle is calculated based on a number of different factors. Vehicles that are deemed 'too good' to be scrapped will be salvaged, and then their condition will play a role in figuring out a valuation. For example, a car that's barely salvageable will be worth less than one that only needs a few hours of repair work to get back on the road.
How sought after a vehicle is will also have an impact on how much it's worth as salvage, with cars that are in high demand being worth a lot to your local scrap buyer. This, in turn, means that they'll be willing to pay you more for them too.
Finally, there's the parts that are held within the vehicle. If they're in good condition and most of them can be stripped out and reused in other cars, you'll be looking at a tasty offer. But this valuation will only increase if those parts are also interchangeable within other vehicles, increasing the options of the dealer looking to resell them.
How is scrap value determined differently?
Scrap, on the other hand, is valued in a much more rudimentary manner. While there is still a method to figuring out what your scrap car is worth, its much less complex.
The age and condition of the vehicle do matter, but far and away the most important factor is the car's weight. That's because it's going to be crushed down and the raw metal will be recovered to be resold. That raw metal is what scrap buyers are interested in, and a heavier vehicle means more metal!
Car salvaging with BMS Salvage
✅ Instant prices available when you get a quote – it takes just seconds
✅ No negotiations or uncertainty – we offer the best possible price every time
✅ Pick up from a location and at a time convenient to you
✅ Payment on the same day as pickup via bank transfer
✅ Help and guidance with paperwork for the DVLA