Seatbelts are installed in vehicles for your personal safety and in addition to wearing a seatbelt being a legal requirement, the risk of serious injury (or even loss of life) is far greater if seatbelts are not worn.
There are some exceptions to wearing a seatbelt which include, a driver who is reversing, someone supervising a driver who is reversing and other exemptions such as medical reasons. Aside from this, anyone who fails to wear a seatbelt when travelling in the front or back of a vehicle would be breaking the law.
Standard seatbelts are installed in most vehicles but in some cases, height and weight restrictions prohibit the physical use of these seatbelts where children are concerned. A car seat should normally be used until the age of 12 or until the child is 135cm tall and the correct child car seat or booster seat, used at all times. If you are an adult, travelling in the same vehicle as a child that you are responsible for, you must ensure that the child is safely strapped in for their own protection.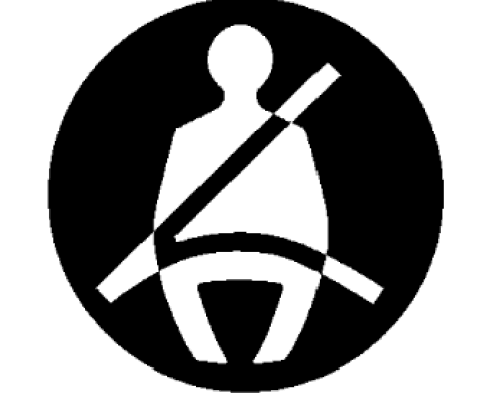 There are financial penalties for failing to wear a seatbelt and drivers caught without a seatbelt can receive on the spot fines of £100, furthermore, if prosecuted, the maximum penalty is £500. For your own safety and for those around you, wearing it right can save a life and save you some money!
Evidence shows that on short journeys or familiar routes, people are less likely to wear seatbelts but the risk of doing this is still high – as an accident can occur anywhere and at any time. You don't have to be travelling at 50mph before you think about wearing a seatbelt, and the truth is, even on a short journey travelling at 30mph it is still possible to be in an accident.
Don't make excuses for not wearing a seatbelt, it's not worth the risk to you or your passengers. Whether you are driving to a local convenience store just less than 2 miles from home or even if you are a good driver, this doesn't mean that you will avoid being in an accident so wearing a seatbelt is better than going on your travels without one.
Seatbelts should be worn even if you are travelling in a vehicle which has other safety devices like an airbag, don't rely on an airbag alone as together, they will be more effective in protecting you if an accident occurred.
Whether a standard seatbelt is worn, a child car seat or booster seat is used, make sure that the safety device is fitted correctly. For instance, there should not be too much slack in a seatbelt or lap belt strap, otherwise this just defeats the object. The correct fitting of a child seat or seatbelt is extremely important to ensure that the impact of a collision is lessened should there be a road accident.
If the safety devices in your old car or other vehicle don't meet certain legal requirements, such as not having seatbelts, you may want to think about scrapping your car. Finding a reputable dealer, such as BMS Salvage, can help you with the transition. Surely, it's better to be safe than sorry?
Most modern cars are designed with many distinctive safety features such as seatbelts, anti-lock braking system (ABS), air bags and traction control. These features are in place to help you survive a road accident and in some ways may even reduce the likelihood of you having an accident altogether. Think safety and always wear a seatbelt!